5 Steps to Get More Local Leads With Video Marketing On YouTube
Do you wish you could get more leads locally, but the referrals aren't coming in fast enough? You are not alone. Many small business owners are facing the same thing. One of the biggest struggles of growing a local business is getting good quality leads.
In this post I will show you how you can use Youtube and the power of Video Marketing to get more leads to your business.
First of all let me say this. You really need a good quality mobile-responsive website, and some basic Local SEO, to make this most effective. However, even if you don't have those things, you can take these steps and apply them to your business and get results.
Let's get started.
Step #1. Build Your Youtube Channel With Local In Mind. 
Create Channel Art with your local customer in mind. Make it look compelling and professional. Use that visual space to communicate a clear message that you are here locally to serve local customers. Visitors to your channel will appreciate your focus.
Add you address and phone number to the Channel Description on the About page. Why not make it easy for people to find your phone number or contact information?
Add all of the important links to your web presence. For sure you want to put your website link. You can also add your Facebook page, and other social media  sites to  your channel.
Just make sure that you Channel reflects that you are local and that you serve your local customers. Here is a screenshot of a plumbing co. that incorporates their local brand into their youtube channel.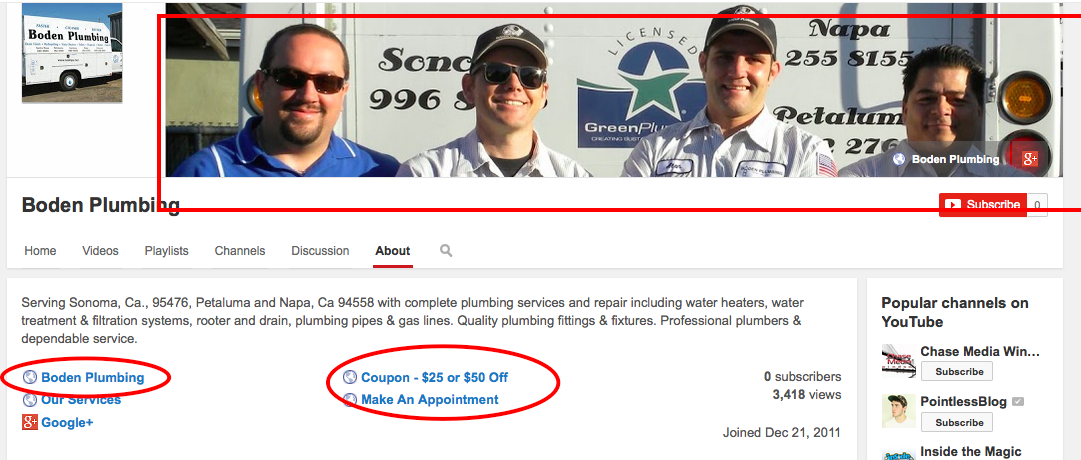 Step #2. Think of Your Top 10 Most Frequently Asked Questions
You are so used to answering these questions for people, that you rarely think about the question itself. Think about it. What are the top 10 questions that you get asked about your product or service?
Write down those questions.
Then write down the answers to those questions.
Here's a screenshot of some videos I found after searching for "How to fix a leaky toilet"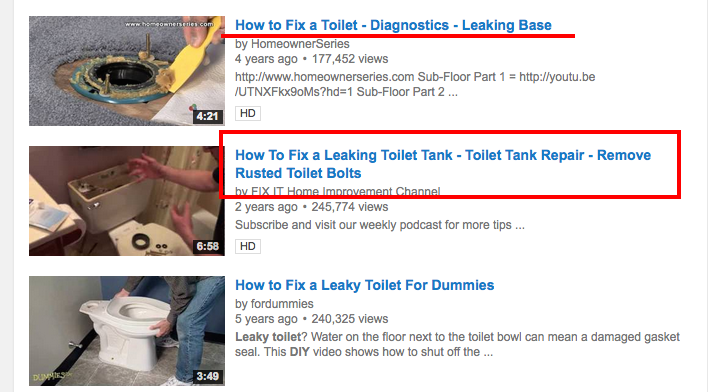 Step #3. Create An Intro and Outro For Your Videos
What I would recommend is writing a simple script where you get in front of the cameras and tell who you are, and who you serve.
For the intro, just say something simple like: "Hi, I'm Bob from Central Valley Plumbing. I fix all kinds plumbing issues from Walla Walla to Yakima. And in this video I am going to answer one of the most frequent questions I get asked everyday…"
For the outro, use something very similar but be sure and call your viewers to action. For example…"Like I said, I'm Bob from Central Valley Plumbing, and I fix all kinds of plumbing problems. I service all towns from Walla Walla to Yakima. If you have a plumbing problem please give me a call right now, and we'll get right out there and take care of it for you. Go ahead. Call 555-555-5555 right now.
Screenshot Example: This little outro uses text and music. I prefer the person to actually give the call to action in person, but this works as well.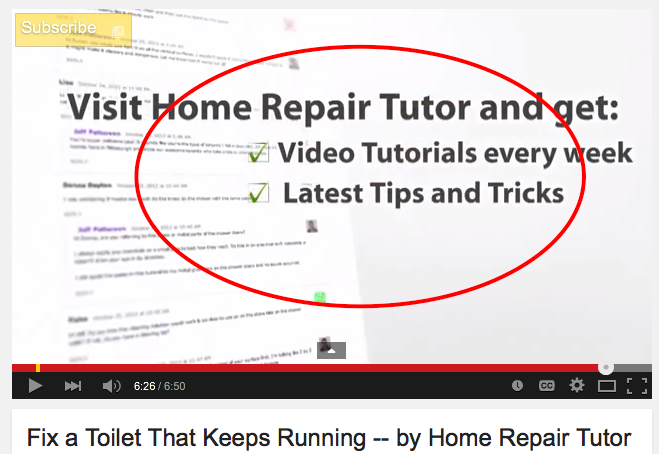 Step #4. Create Your Video
Now get in front of the camera and answer the question. This is going to be one video that answers one of your most frequently asked questions. It should be about 3 minutes long. Do not drag it out. People are looking for quick answers these days. Do not make one video that answers all 10 of your questions.
Oh! Be sure and edit the intro and outro in to the beginning and end of the video.
Step #5. Upload Your Video To Youtube. 
Now it's time to upload your video to youtube. Here are some tips to make this most successful.
Login to your channel and click "Upload"
Select the dropdown and choose "Unlisted" so that your video will not be listed publicly until you are ready for it to go live.
Upload your video file.
Title your video. Try to make it as compelling as possible. A powerful "local hack" is to put your phone number and keyword in the video title.
Fill out your video description. you can add your website address here if you want your viewers to visit your website. be sure to use http://www.yourwebsite so that the link is clickable. Then, you can add a short description about your video. Of course you want to tell them that this is a question you get all the time and that you give a full answer in the video. You can also use the description box to list other places where your viewers can find you online.
Add the most relevant keywords to your video. This is important as it helps youtube index your video and connect it to the right keywords that people might be searching for.
Change the thumbnail if you want to.
Click publish.
Watch your unlisted video a time or two. Check for anything that needs fixed, and fix those issues.
Change your listing to public.
Your Video is now LIVE. Congratulations!
Be sure and share it with your friends, and ask them to like it and comment on it. this will help it rise in the search engine ranking. When you get done publishing all of your top 10 frequently asked questions, you should start seeing results.
Response Time:
Get my FREE Cheatsheet – 5 Sure Fire Ways To Use Video To Market Your Business. (See the right hand sidebar at the top.)
When do you plan to have all 10 of your videos finished and LIVE?
Is there anything holding you back? If so, what is it?
Join the conversation below…
Here's another article about video marketing that I published over on Linkedin.