Are you looking for ways to market your contracting business online but you're really not sure how to do it?
Or maybe you are wondering what is the most cost effective way to use the internet to market your service.
In this post I'll give you ten ways to get the most bang for your buck using the internet.
Let's get started,
#1. Mobile Friendly Website
The first way to get the most bang for your buck is to have a mobile friendly website.
Now this website right here has nice pictures but the site is not mobile, if you pull this website up on your mobile phone it's going to be all small letters, and small print, and it will be difficult to find what it is that you're looking for.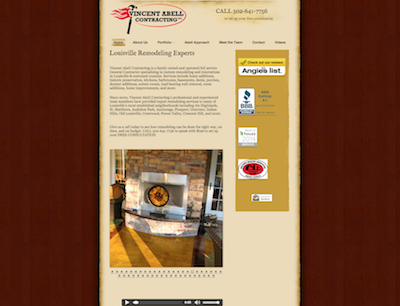 Contrast that with a website like this, big images, and a clear call-to-action. It's easy to navigate. And it gives you the information you are looking for with up to date technology.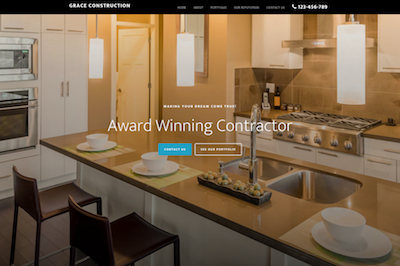 Then if you pull up the exact same website on a mobile device… this is what it looks like. Everything shifts and moves to work in harmony with whatever size of device is looking at it. You can get a site like this for around $100/mo. They are priced very reasonable, and will set you apart from your competitors.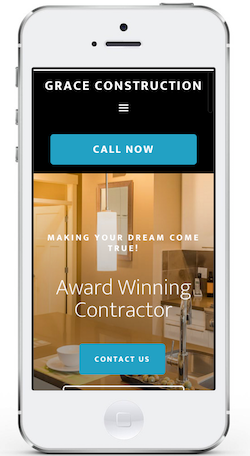 #2. Build a Good Online Reputation
For this example we'll use Alpha Design Build, and pull up their reviews online.  To do this, I take the name of the company, and then add reviews in the search engine like this, "Alpha Design Build Reviews." I recommend that you do that for yourself. Google your name, and add the word "reviews" and see what your own reputation looks like.
This particular company doesn't have much of an online reputation. They only have one review on Facebook. Their Google page doesn't even have a review. It says here, "Be the first to review." If you look at your online reputation and it says "Be the first to review," then I would highly recommend that you ask one of your clients to leave you a review as soon as you can.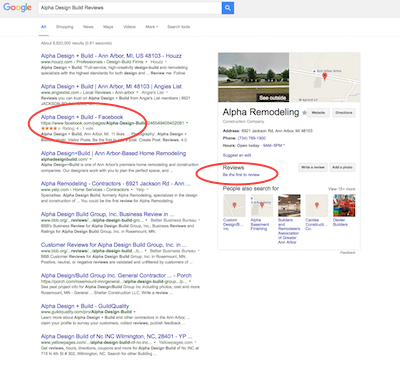 The second thing I recommend is to have a review website, that you own, like this one for Coy's Plumbing. You can brand it for your own company with your own address. Then give people the link to leave a review. They'll be able to come in and leave a review. You'll have much more control over your online reputation by doing it this way. Typically a review site like this runs less than $100 a month, and it's highly worth it if you're wanting to build a good online reputation.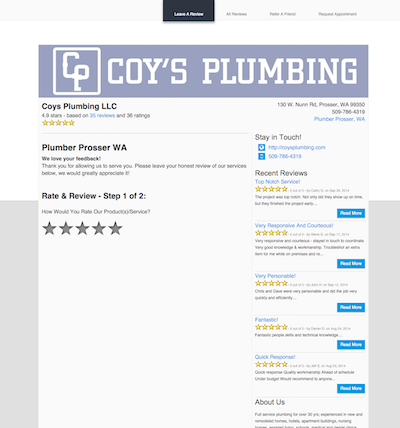 #3. Local Facebook Page
The third way to get the most bang for your buck online is to have a Facebook page that is optimized for local search.
For this example, Anderson Homes, their facebook page says it's a professional service. However, it's not optimized for local search. Yes, there's the address on there, but they haven't claimed and verified it.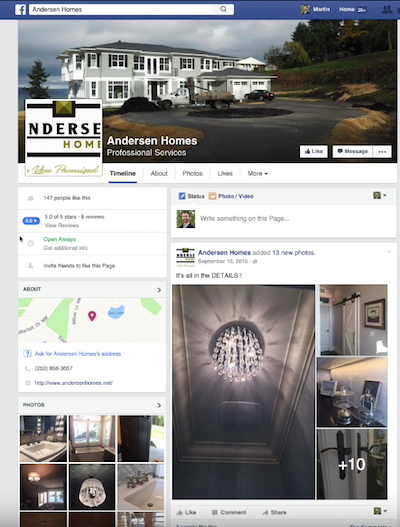 How do I know? Well look at this example for Coy's Plumbing. He is a plumber. You'll notice a little check mark right on the banner picture that says this is a verified page. Facebook has confirmed this is an authentic page for a business or organization. That means all this information is correct, and if it's not then he can now go in and change it.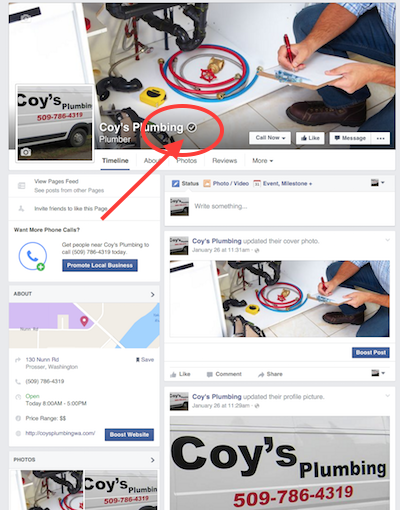 If you have a Facebook page and you've verified it with Facebook, then go in and optimize it. Make sure the address, phone number, website, and everything is accurate. This will help you get the most bang for your buck using the internet.
#4. Instagram Marketing
Instagram is an extremely popular platform right now, with lots and lots of activity. It's highly engaging.
Instagram is a great place for your local business to gain some traction. Because you have people all around you that are engaged on Instagram, and many will follow you. So, start posting pictures of your work. Shoot for one a day. Engage with people on Instagram in your local area, and you will start seeing some good results.
This example is a remodeling company in St. Louis, MO.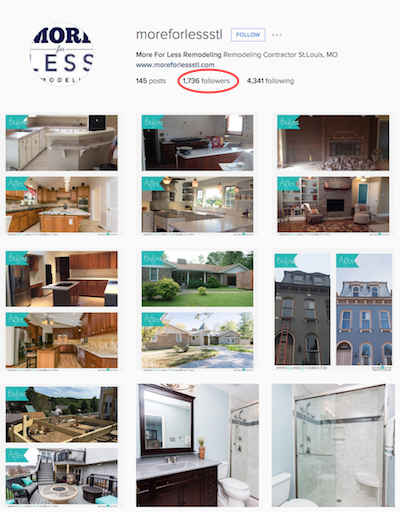 #5. Google My Business
Google My Business is the local site for your business on Google. To read more about Google My Business you can visit their website here. Here's some of the advantages that Google lists:
Show up on the web. When people search for your company or even for your industry in your local area, you want to show up and have your information listed right there by Google.
Appear in the maps. This will help customers find directions to your business as well as tell Google where you're located, and how far out your services go.
Stand out in Google+ with strong reviews and pictures,
Share the correct information about your business.
Google My Business gives you a graph of 0 to 100% that tells you when your page is fully optimized. You want to go through and get it to 100% so that your business is complete. That way all the information is completely accurate about your business on Google. Then when you show up on search you are completely accurate and easy to be found.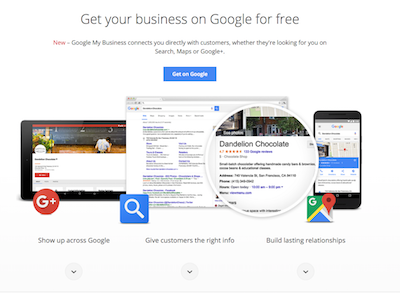 #6. Better Business Bureau
All right the next way to get the most bang for your buck using the internet is to list your business in the Better Business Bureau. This site, the BBB site, has a lot of authority in the Google search engine. When you do some searching for a remodeler in your city, or plumber in your city, you are going to see BBB listings. Better Business Bureau listings show up because there's so much authority. It's worth it to take some time and list your business in the Better Business Bureau.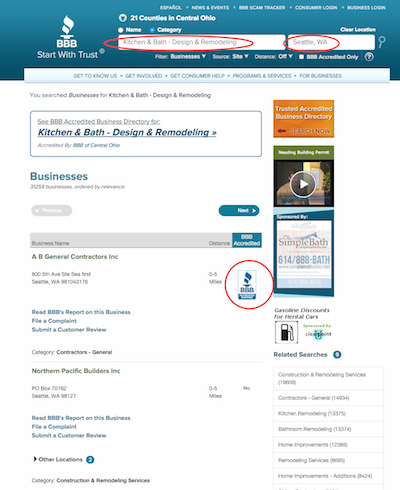 #7. Houzz
Houzz.com is becoming quite popular as a directory for contractors. For this example we'll pretend we are in Avondale Arizona. (I wish I was right now… 🙂 So, when I search for "Kitchen & Bath Remodelers" you can see there are 344 kitchen and bath remodelers listed for this area. I highly recommend that you come in and you setup your page with all of the correct information, and then take advantage of this free offering to market your business online.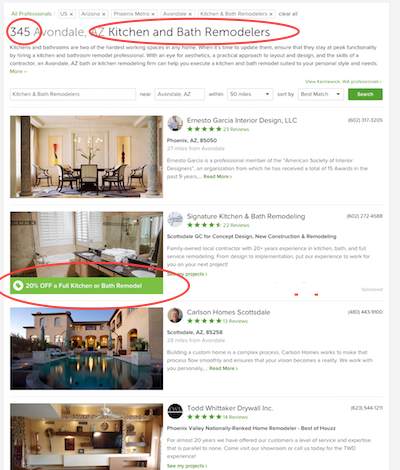 #8. Other Top Online Directories
There are a lot of other online directories that you want to get listed in such as:
You want to take the time to make sure that your business is accurate and listed online. Not just in one directory or website, but throughout the internet.
You can do all of this Directory Optimization yourself, or you can hire it done. Typically it costs around $150 or $200 per month to have an agency do this for you.
#9. Email Newsletter
This is a great way to get the most bang for your buck. Take advantage of internet software to stay top of mind in front of your prospects.
Here's a few different examples of how you can do this…
These guys have a business called Dream Maker Bath and Kitchen. They are offering a free seminar called, "Secrets to remodeling your kitchen or bath." You simply sign up and get registered. Now, I don't know for sure, but I'm guessing after you've attended the webinar, then they follow up with you via email. And stay in touch to make sure that your needs are being met. That's a great way to do it.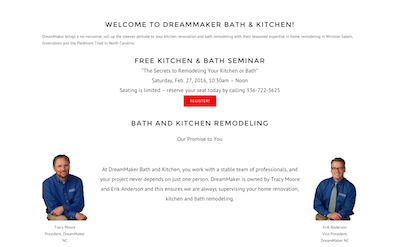 Another way is a remodeling newsletter. Like this guy from Doing What's Right Construction. You just fill in your name, address, and all of that, and he sends you a nice Remodeler newsletter each month.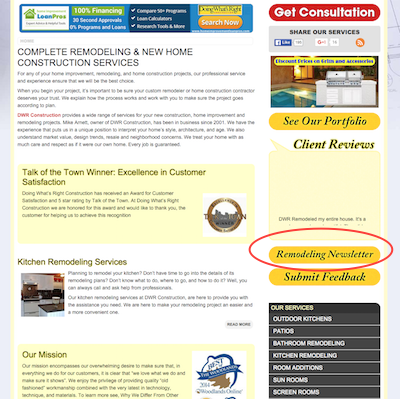 Here's another way. Here on the website it says here, "Subscribe for the latest industry news." He is giving you his blog posts. Every time he publishes a new blog, it gets sent to you via email. This helps him stay in touch with you over time, and that keeps him top of mind.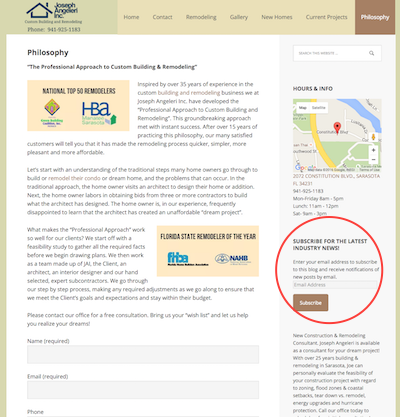 Obviously, there are different ways that you can go about this. However, remember that email is a very, very powerful way for you to use the internet and software to grow your business.
#10. Youtube Marketing
The final strategy that I have for you today, is YouTube Marketing. Our example for this point is Craig Heffernon. He put up this video, it's five and a half minutes long. It shows from start to completion a bathroom remodel with tile. Look at this, he's got over a hundred and fifty thousand views!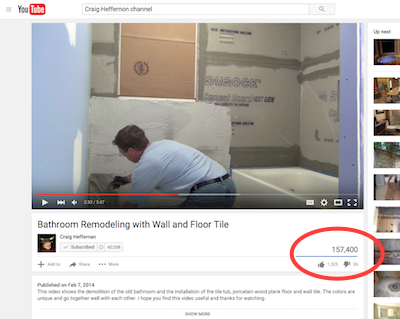 Then if you go into his channel you can see that he has sixty thousand (60,000) people subscribed to his channel, and some of these videos that he's made have over a million views. That's 1,000,000+ views!!! There's a video here that shows you how to build a ground level deck. And it has one and a half million views on that video alone.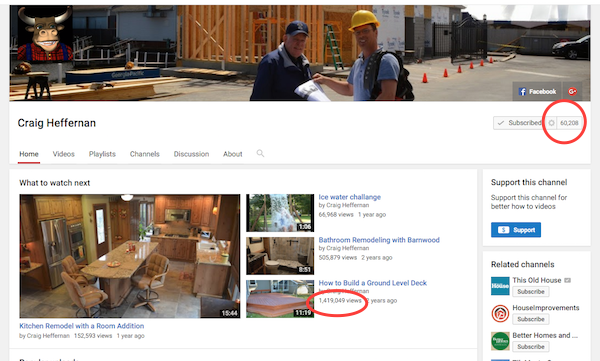 Now if you just took some time to set up a camera as you were working, and documented what you do, how you do it, and how good your work is… Think of the impact that could have. And the reach that you could have online. As people in your local area encounter these videos then they can contact you for business. Or you can put them on your website as examples of your work. There's so much you can do with YouTube and video marketing. I hope this wets your appetite, and shows you the possibilities.
Those are ten different ways that you can use the internet to get the most bang for your buck.
Response Time:
What is your favorite point that I outlined above?
Is there a particular strategy that you are going to implement after reading this?
Get on my list and you'll be notified whenever I publish new articles.
Share this with someone you know will benefit from reading it.